Chicago Real Estate Market: Buying & Selling a home in 2022-2023
Posted by Mike Zapart on Tuesday, September 20, 2022 at 1:43 PM
By Mike Zapart / September 20, 2022
Comment
The real estate market is always changing. So I wanted to show you the current market conditions and give you an overview of what to expect in September 2022.
Average Price
The average price of a house sold in August was $441,918. This is only about half the percent lower than July's figure. We saw some reduced listings but this has more to do with seasonal adjustments rather than any major discounts caused by crashing markets! Our market is just following our normal price seasonality here in Chicagoland.
July's average asking price was $445,579 which is actually about 2k more than month prior but also about $32,000 more than last year. Nicely renovated larger homes are still selling quickly with multiple offers and we're seeing less of those type properties available on the market throughout the northwest suburbs.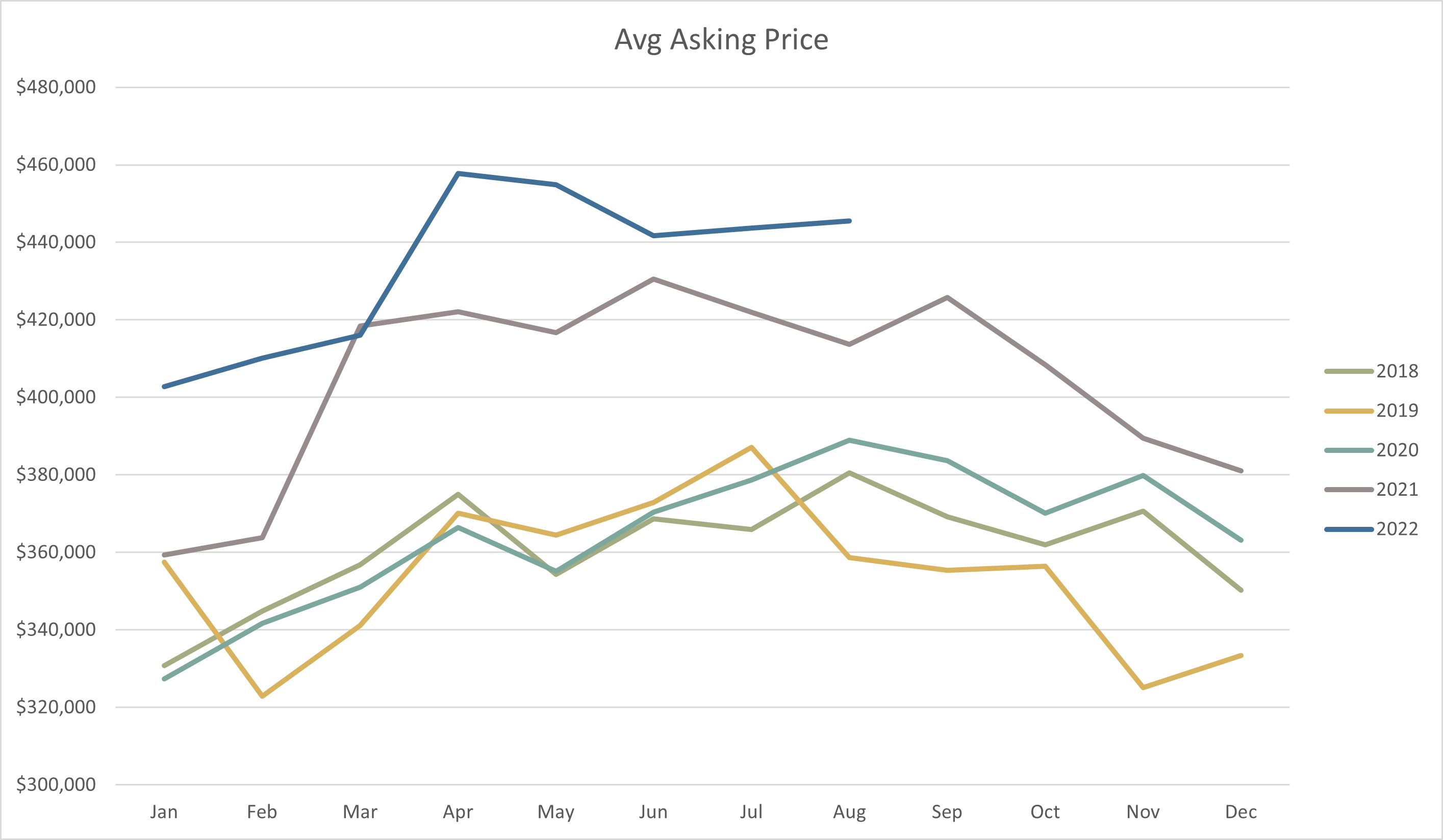 The ratio between average asking and sold prices of all the homes that closed came in at 99.18%. This means you can expect to negotiate a small discount while making your offer, there is less competition from other buyers right now- this is great news for first-time homebuyers! I expect these numbers will continue decreasing throughout fall/winter months before rebounding again in springtime - so take advantage while there's still opportunity.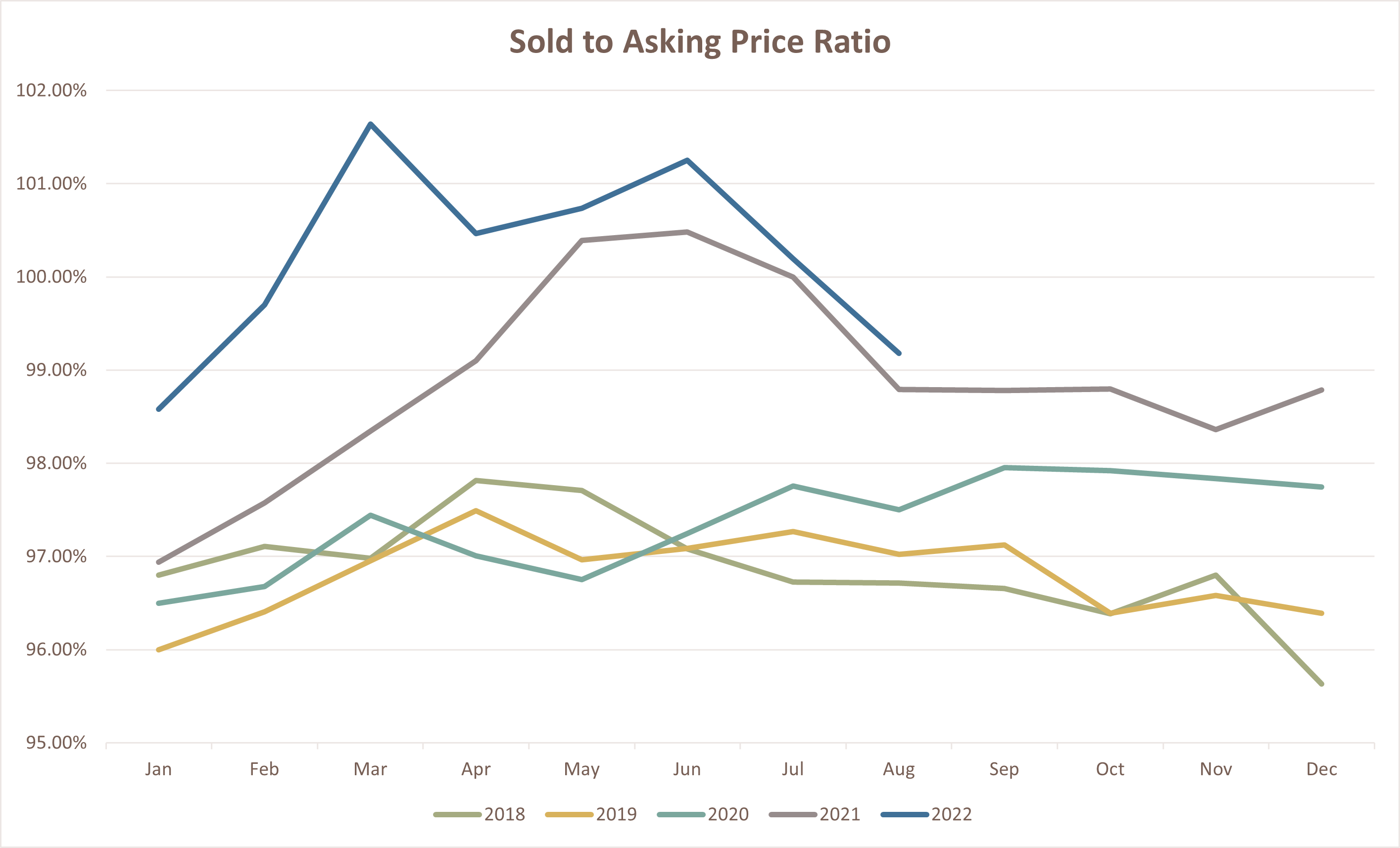 Closings
The number of single-family homes closed last month came in at 162 which is 25 more than the previous month but still significantly less than two prior years. In 2021, there were 18% more closings in our area and 2-years ago we had 25% more sold single-family homes over the same time periods.
Inventory
The housing market in our area has been struggling to provide new inventory of homes for sale. In August there were only 204 listings posted, which is 32% less than what it was last year at this time and compared with 2020's count of 247 homes listed during that same month that represents a difference of 52% of new homes being listed for sale.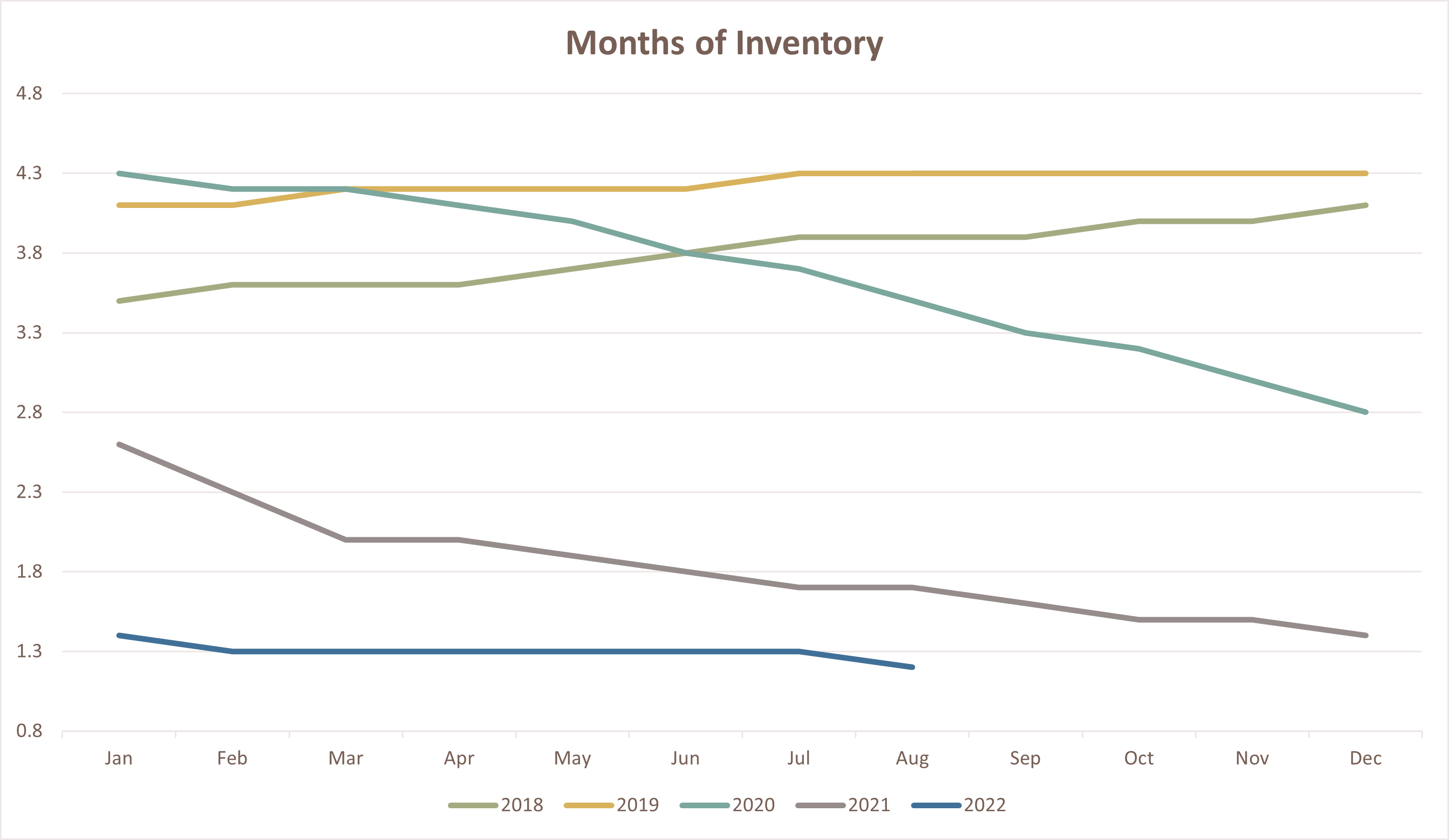 We're not alone though--a number or markets across America have also seen sharp decreases in inventory recently because of lack of available new construction options caused by supply chain interruptions.
New Listings
The month of November was a mixed bag for the housing market. Unfortunately, we saw an decrease in new listings and higher amounts closing last month which had impacts on inventory levels - coming in at 1.2 months as opposed to 5 or 6 of a stable market. With all these negative national media stories about how bad things are doing right now its important not just remember what statistics show but also get accurate information on a local market by working with your local trusted Realtor®.
Showings
Data shows that 3,616 property showings took place in this area last month. This is about 200 more than July and it looks like buyers were able to overcome initial shock of higher rates and they finished some vacation trips to get out and look for homes again. Though numbers are significantly less than what we saw during 2020's pandemic boom--which was at record highs! --you can see how closely aligned our current levels have been with those from previous years such 2016 to 2019.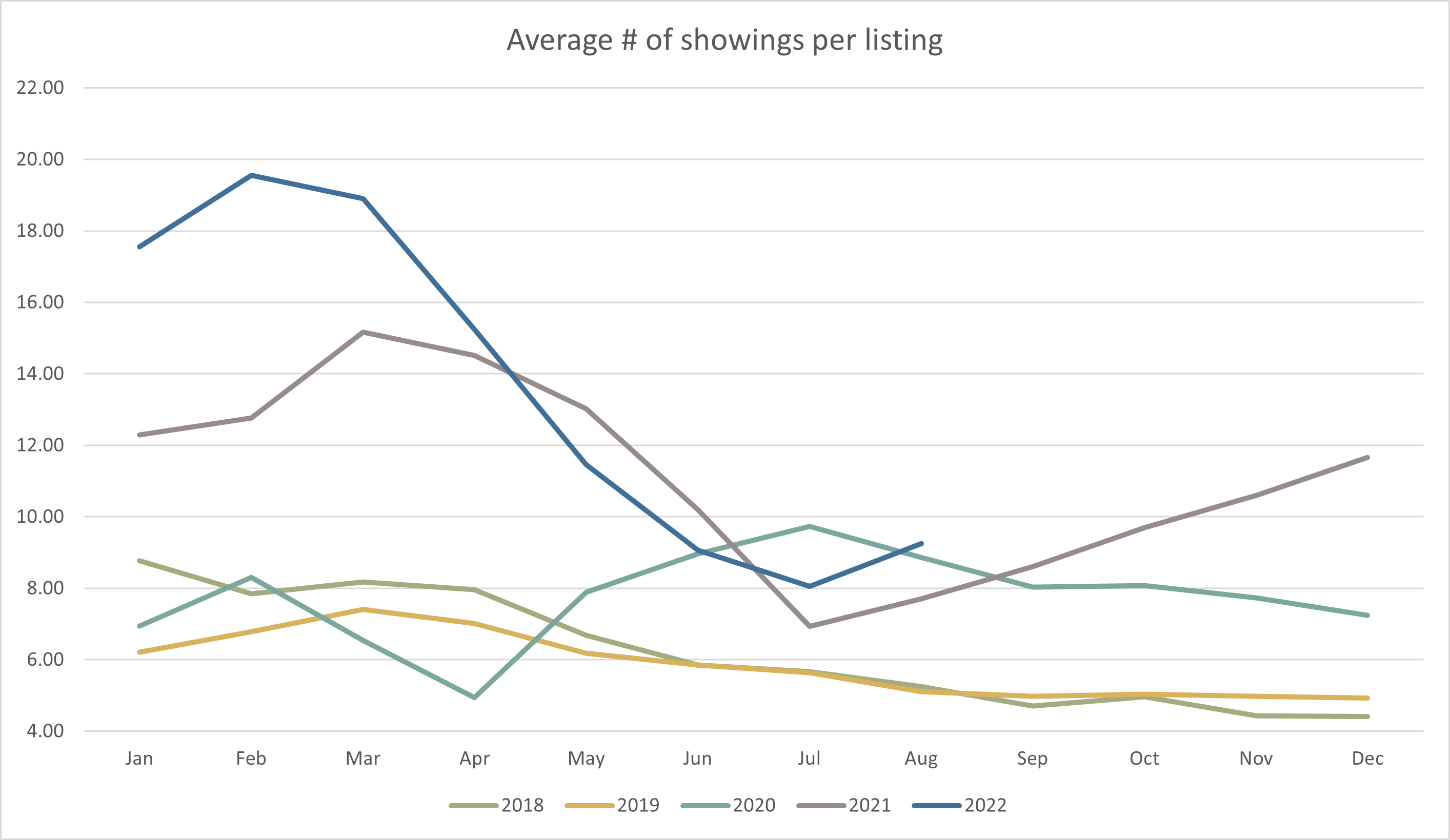 The number of showings for each property is way down since last year, this number came in at 9.25 showings per active listing. In February of this year there were over 18 showings per listing. This new number is still almost twice as many compared with previous years before pandemic when an average home was getting about 5 showings per month.
The number of days on the market has fallen to 36, one less than in July and our typical August numbers before the covid pandemic were around 75 days on the market. So as you see homes are selling very quickly and it you find a nice single-family home listed for sale there is not a lot of time left to make a decision.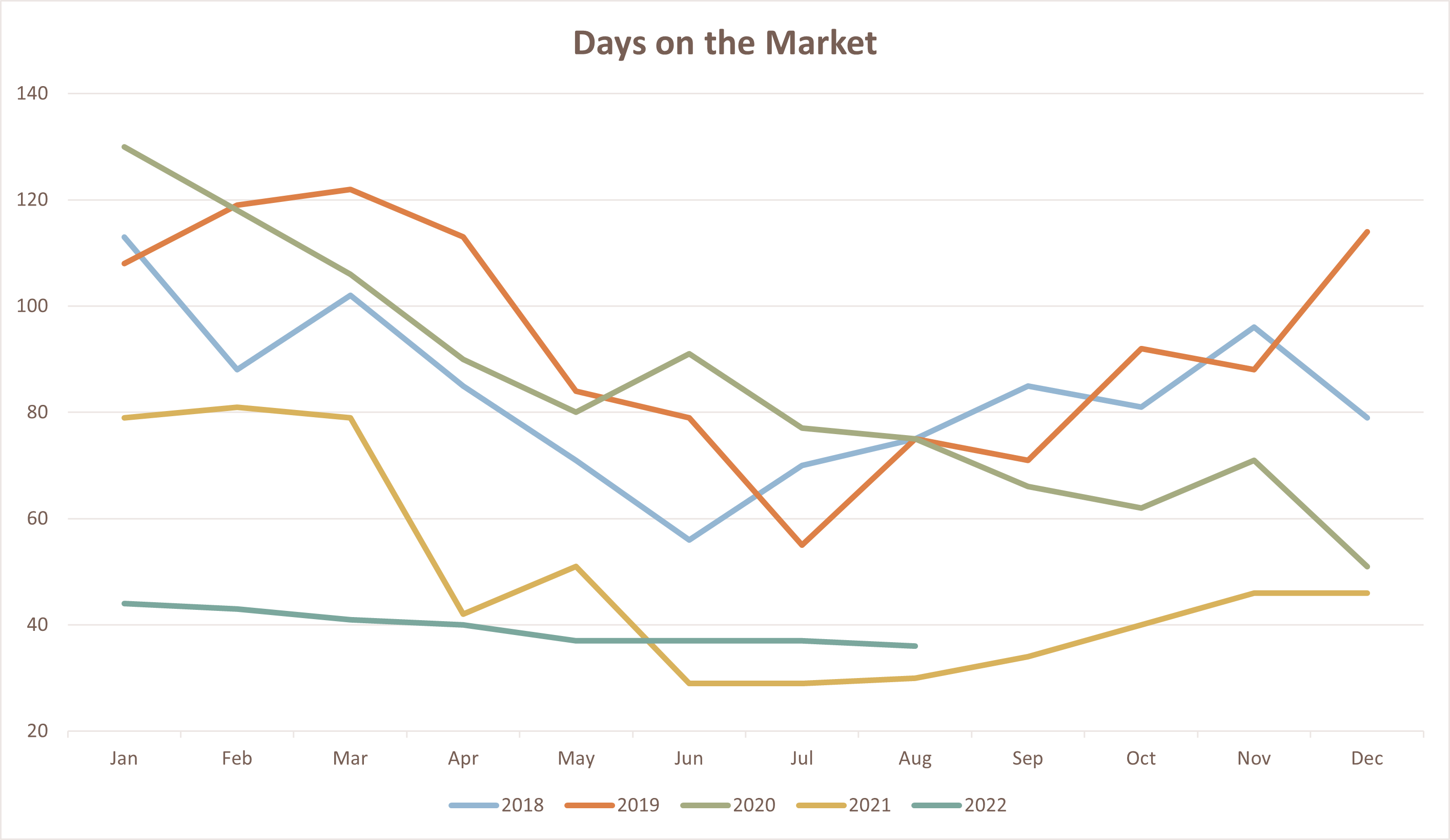 What does this mean?
What is the conclusion after reviewing all those statistics? The market has cooled off from its peak, but it is still doing better than in years prior to the pandemic. So does it feel a little bit different, yes of course but we are still in the seller's market and properties are moving quickly. If you are thinking of selling, now may be a good time! If you have been waiting for things to cool down, well they have and so this would be a good time to purchase also. The market is still in a good place, and although it has slowed down to more normal numbers, it has not crashed. Out of 9 of those major statistics, none of them are showing that a major crash is coming down the road.
The next 3-4 months might be the best time to purchase a new home. We will continue to monitor the market and provide updates so that you can make the best decision possible for your family. Spring is just around the corner and with it, another price increase for housing. All the data we've looked at points to this market trend continuing as usual with lower prices in the fall-winter time and increasing during the spring months.
Keep an eye on our blog for updates on sold prices and inventory levels in your area!