Arlington heights real estate market | December 2022
Posted by Mike Zapart on Thursday, December 15, 2022 at 2:42:12 PM
By Mike Zapart / December 15, 2022
Comment
Arlington Heights home prices have been falling for the past seven months, and why this could be a good thing for you.

I'm going to talk about something that's been on many people's minds lately - falling prices. Many people are worried about what this means for them and their finances, but I think there's some good news hidden in all of this.
If you've been waiting for the prices to drop, this is your chance!
Sold Prices
Sold prices are about 18% lower than they were back during springtime. Average costs of houses currently stand at $3,000 cheaper than 12 months ago and $8,500 more compared with two years ago - so if saving some money on a new home sounds good, there might be a good time to purchase a new house now (and other great news mortgage rates have gone down as well). It all adds up; fewer multiple offers from the lower competition which means it'll be easier for decision-makers like yourself to take advantage when buying property.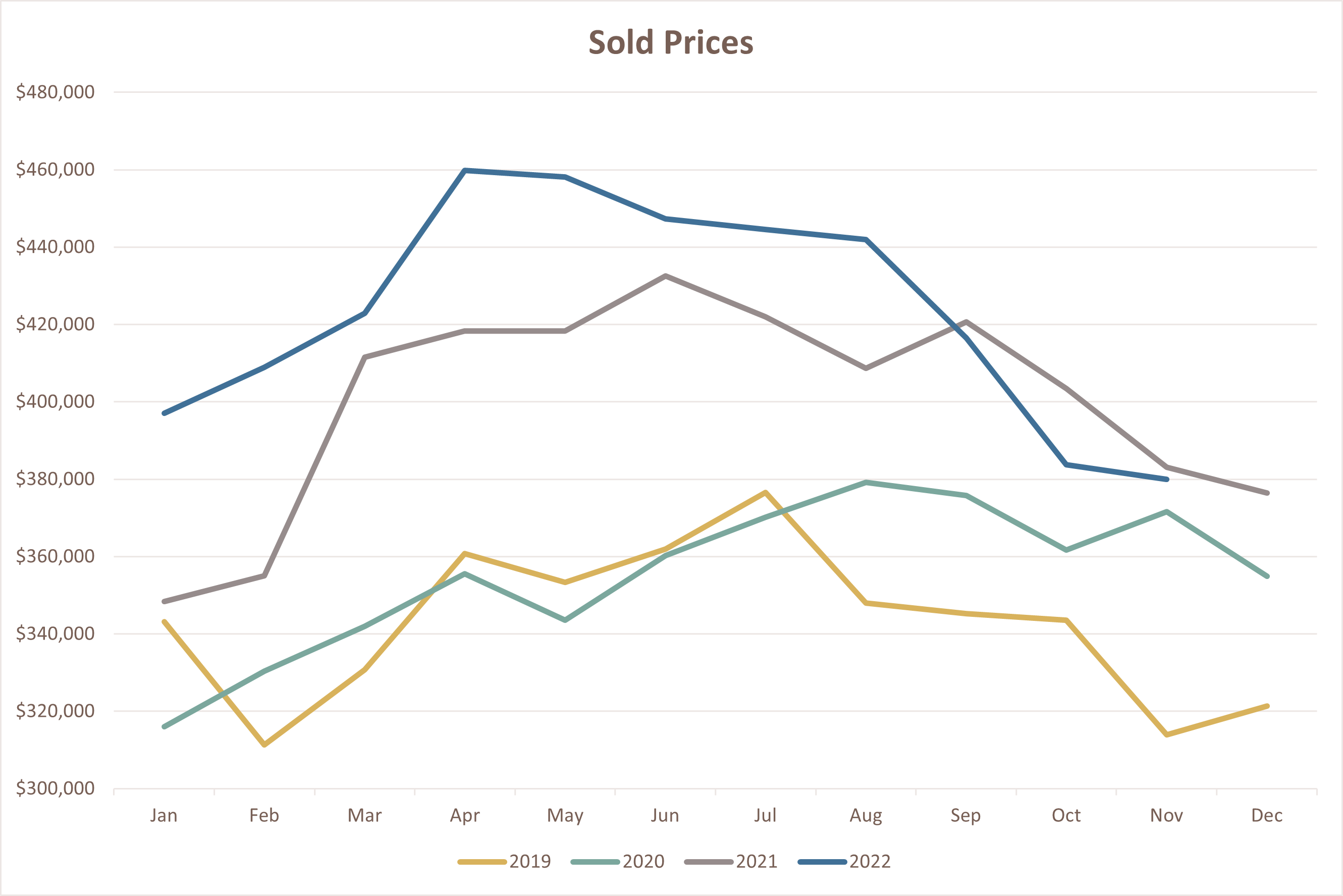 Average Asking Price
The average asking price for single-family homes is also dropping. Sellers are reducing their prices to stay competitive in the market. The average asking price of homes came in at $389,500 dollars which is almost identical as prices last November! This is a regular market seasonality trend as we see here in the Midwest each single year.
Sold & Asking Price Ratio
The ratio between sold prices and the asking ones also changed in the buyer's favor. That number came in at 97.5%. Prospective buyers, on average, were able to negotiate about 2-3% down from initial asking prices Last time we saw numbers like these was the summer of 2020, just after the pandemic unlock; its safe to guess that times, when every single home went way above asking price, are behind us now as well.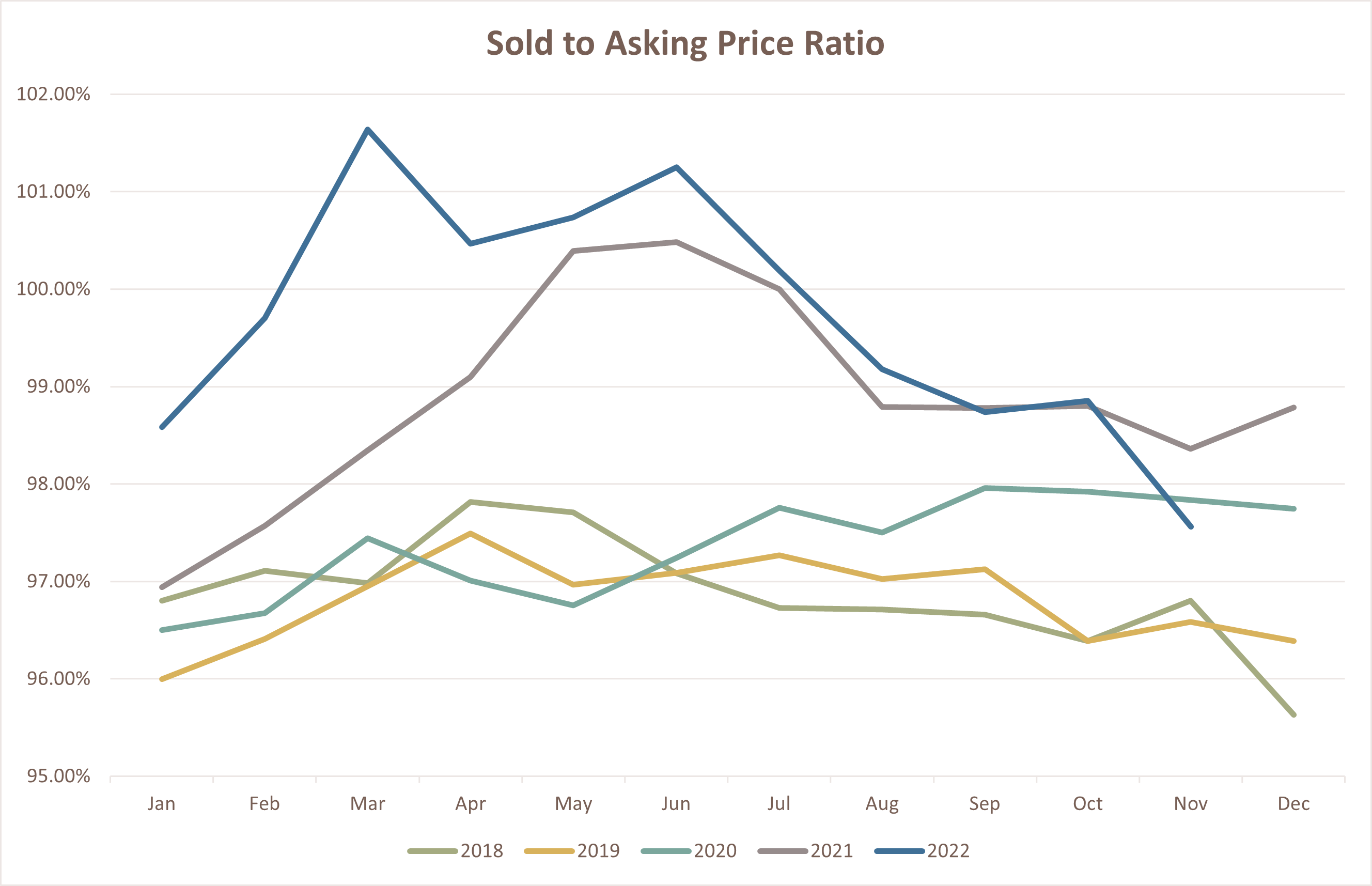 Homes Sold
I know it might feel like the market is moving slowly, but we are just back to normal. 116 homes sold in last month's market were very in line with what you can expect during the pandemic years of 2017-2019, so don't worry!
However, I will admit that this year—with less than 1600 single-family houses transacting through our area--we have experienced lower numbers than usual which may account for some buyers staying away due to their lack of inventory and higher interest rates. Last year we had over 2100 closings in our area. It means we had 500 fewer families move into homes in 2022, a big change to the local economy.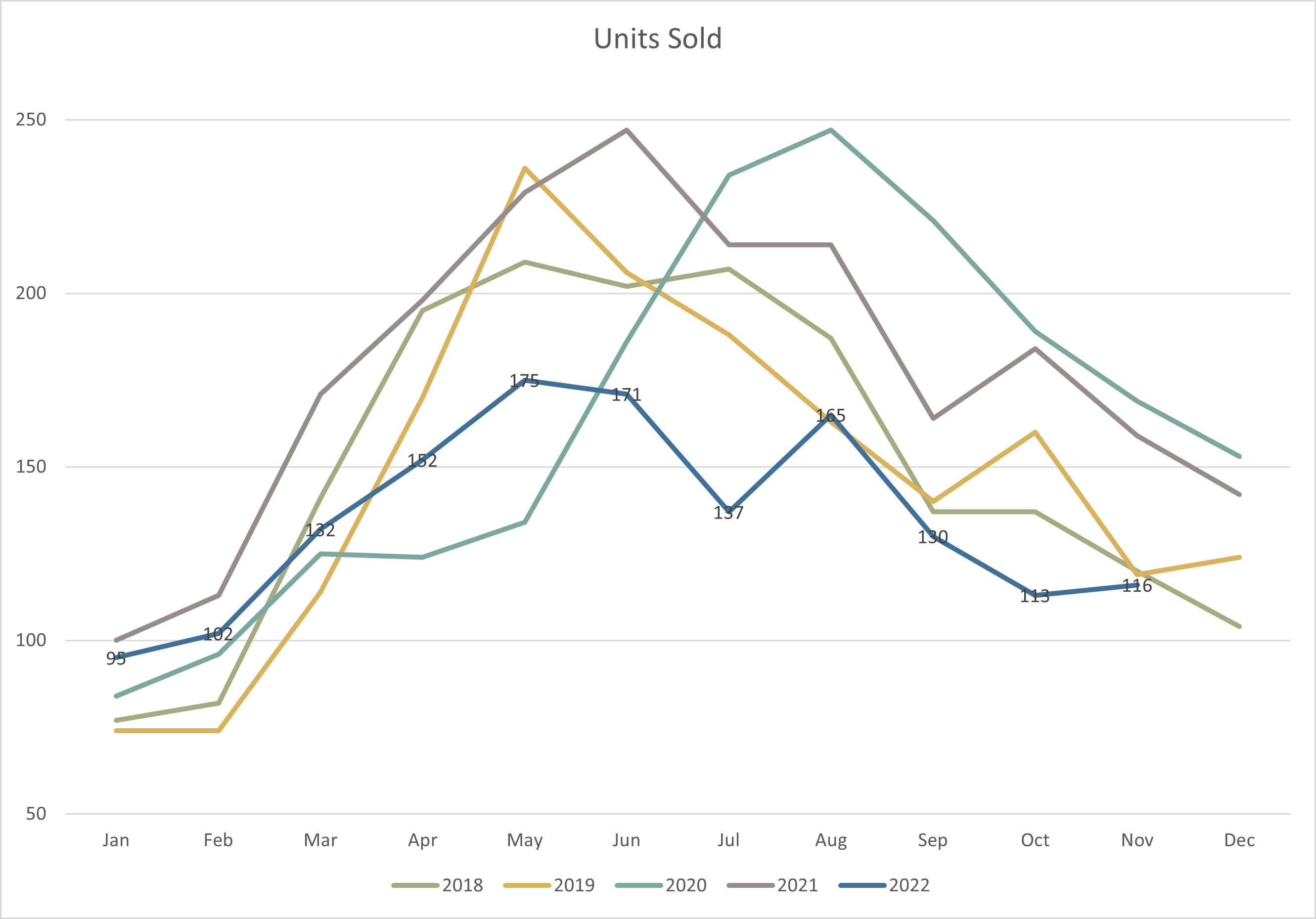 New Listings
The housing market is getting tighter and more competitive by the day. There were only 104 new properties listed for sale last month, 46 less than a month ago! Our projections are that we'll see about 75 homes become available in December alone, with 2,200 projected listings during the full year of 2022-- compared to 2019, when there were over 3900 new listings, this area only got about 55% new inventory compared to years prior. With inventory scarce as it currently stands, people are not downsizing much due to being locked in their homes with low mortgage rates. Buyers have no choice but to wait till next year or select from limited inventory right now.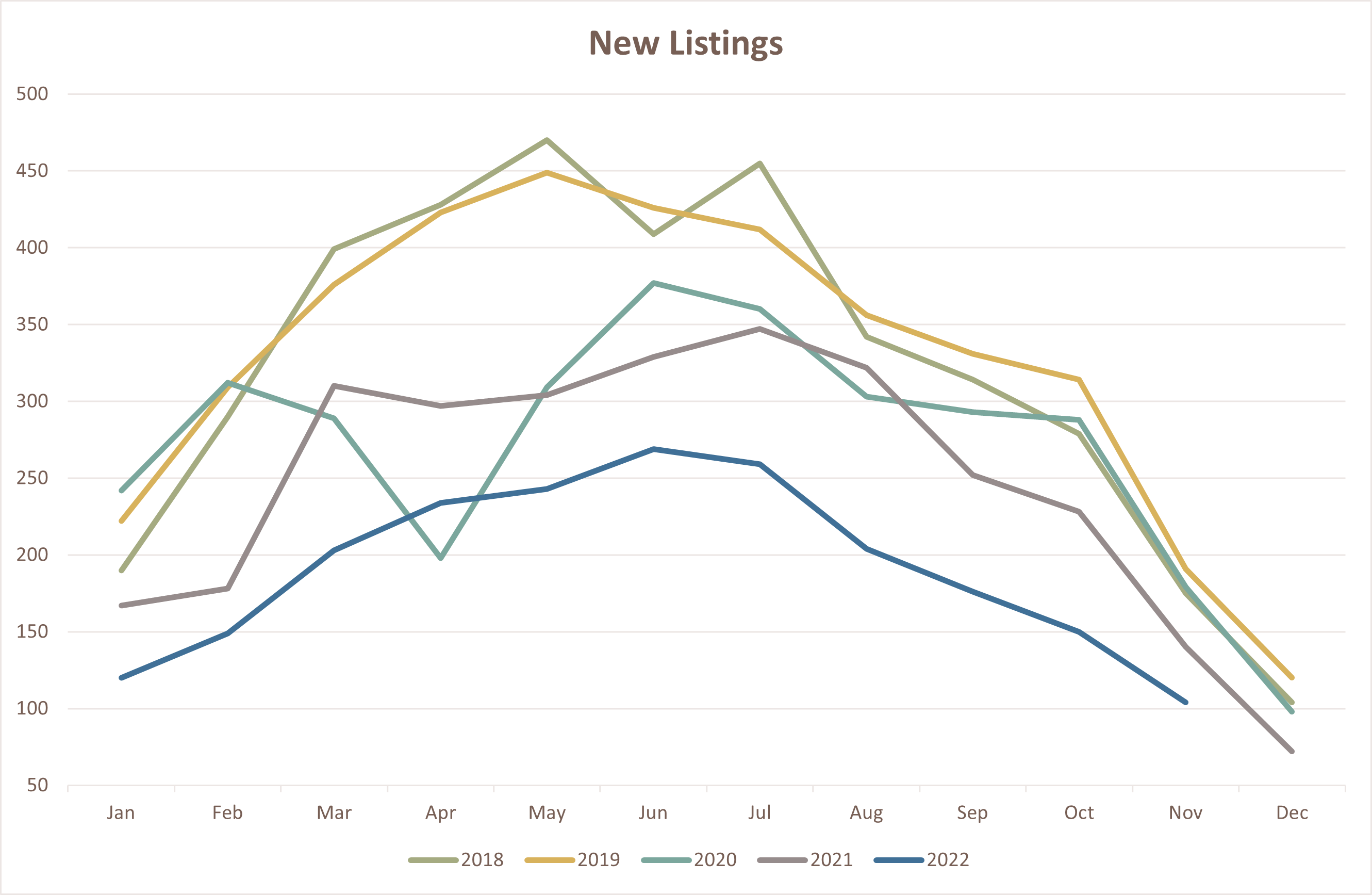 Months of Inventory
The current inventory of homes on the market is not changing much; again, this number came in at 1.2 months. If we see about 100 sales each month and prospective buyers only have 120 homes available to pick from- it's very low! Current price reductions are more associated with the regular year market seasonality of our marketplace, and we are hoping to see higher inventory numbers in the springtime.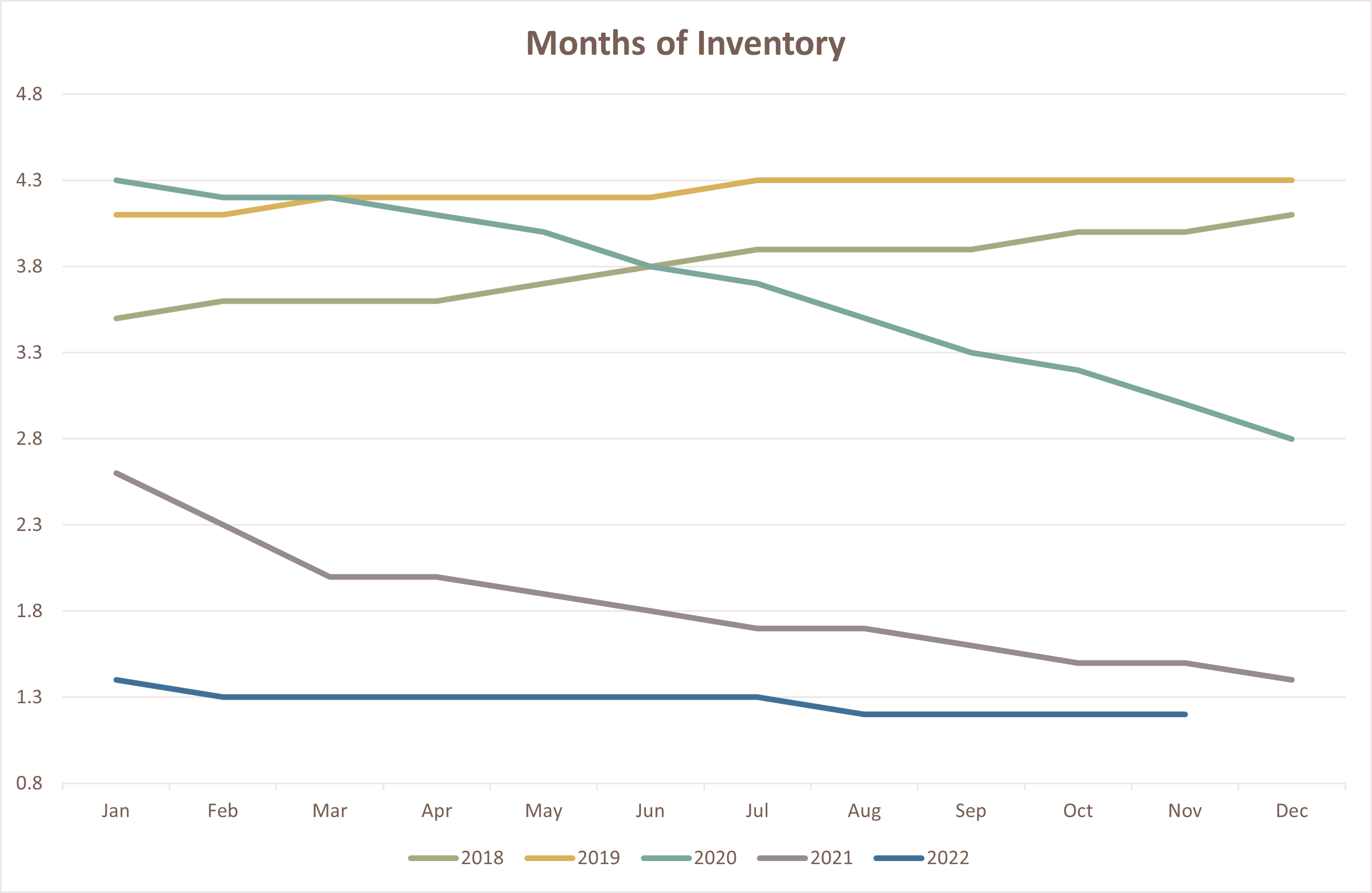 Total Showings
The real estate market is going through a rough time right now, with showings for homes below-average numbers at 1,935. There has not been this low of activity in over ten years! Buyers are confused by the lack of inventory, high-interest rates; there were midterm elections and the Thanksgiving holiday to deal with. Most people we talked to decided to postpone their searches but buying now would be a great idea before another big wave of buyers comes in springtime - which could mean 3-4 times more competition than what you're facing right this second!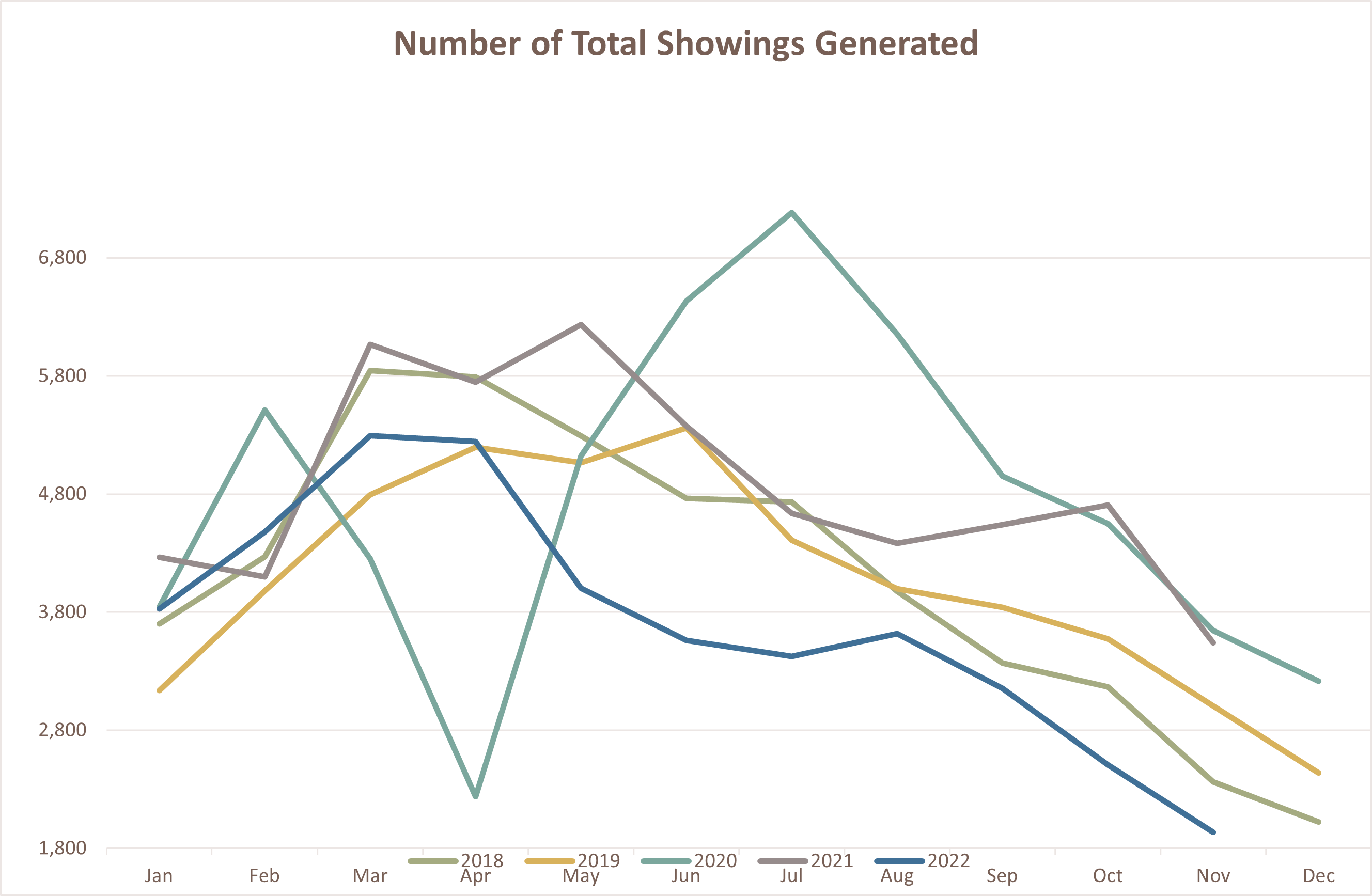 Showings Per Month
The average number of showings per month came in at 7.87, which is the same level as November 2020! We're expecting this figure to drop even lower over two more months and then start increasing starting mid-February 2023 - so if you are a potential seller and you need time for any unfinished projects around your house, now is a good opportunity to work on the interior of your property to get it to show ready for the spring market.

The market dipped again, this time to 35 days. Homes are still selling quickly with little time spent on the listing agent's calendar! Lack of inventory is showing up here again, plus lenders have been processing loans a lot quicker these days since they are not doing a lot of refinances.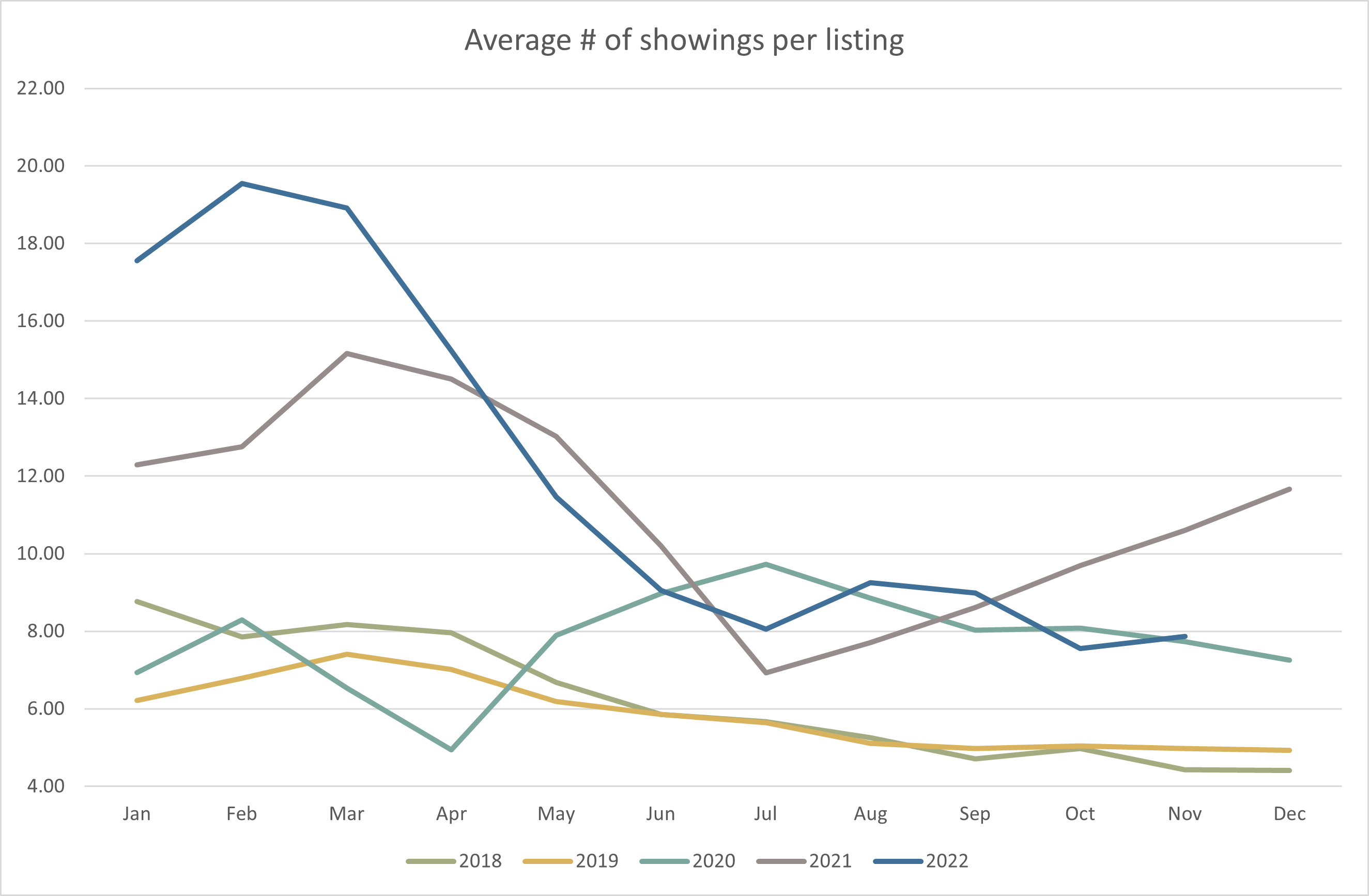 Bottom Line

Just to summarize the current market, after two years of unusually high activity in the winter months, our market is back to normal with low amounts of new listings and decreased demand from prospective buyers. Government intervention with the increased rates cooled off the market to regular levels seen prior to the covid pandemic.
Buyer Recommendations
If you are a buyer, this might be welcomed news; during your home search, you are not going to be competing with a lot of multiple offer situations from other buyers, and you might be able to negotiate the final purchase price down. If you are considering selling your house, you missed the times of crazy high buyer demand and sold prices that were much over the asking prices.
Seller Recommendations
Our recommendation for homeowners like you is to work on their houses through the wintertime and get them ready for sale in mid-Feb or early March when buyer activity comes back up again. We have a great plan in place and a program that can fund all your renovation expenses this winter.

As always, we will monitor the market numbers for you; during our next month's blog we will summarize the whole year of 2022.
Happy Holidays & Stay warm!