Arlington Heights Real Estate Market | February 2023
Posted by Mike Zapart on Tuesday, February 28, 2023 at 10:19:45 AM
By Mike Zapart / February 28, 2023
Comment
How is the market in Arlington Heights?
You're probably wondering what's going on with the real estate market these days. In this article, I'm going to answer some of your most intriguing questions about the state of our local real estate market.
So, if you're curious about whether or not now is a good time to buy or sell a home in Arlington Heights, I'm going to address all of that and more. Let's dive right into the newest data.
Sold Prices
Get ready for a hot housing market in 2023! Despite the winter months usually being slower, January was surprisingly robust, with an increase of 3.63% in sold prices - bringing average home values to $431,667. We are expecting this trend to continue throughout the year due to low inventory numbers and interest rates stabilizing around 6%. If you're looking for your dream house, now is definitely the time – but be prepared, as many homes have multiple offers coming in already. I also noticed a big increase of social media posts from agents desperate to find properties that match their buyer's requirements indicating prospective buyers are ready for more inventory this spring.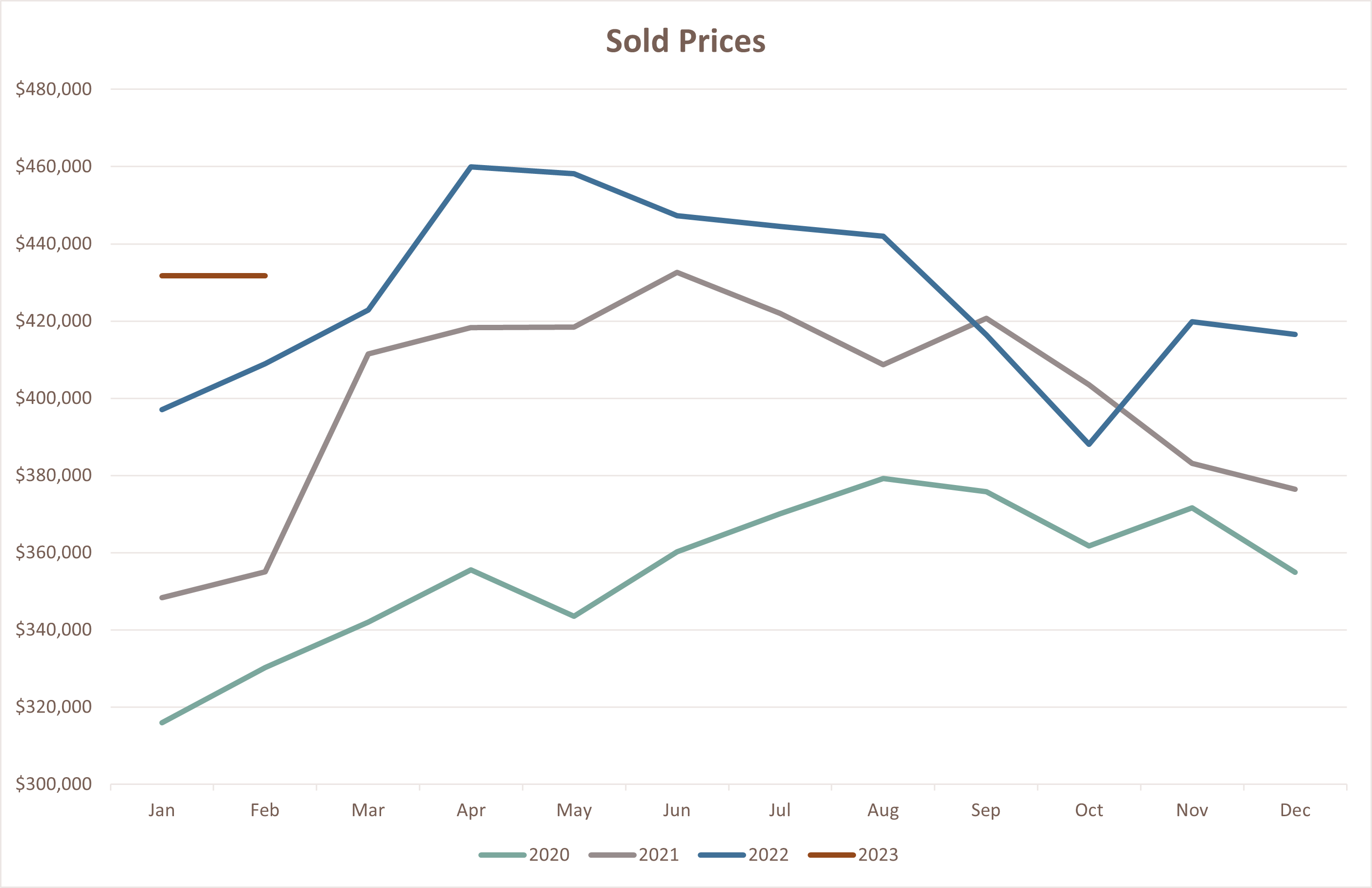 Home sellers are off to a head start this year, jumping into 2023 with high hopes and ambitious price tags. With the mild winter months providing an early boost of buyer demand, asking prices have already increased by $17,173 - now reaching as high as $441,862! We will likely witness even higher sold prices next month due to these optimistic market conditions that usually arise in March or April.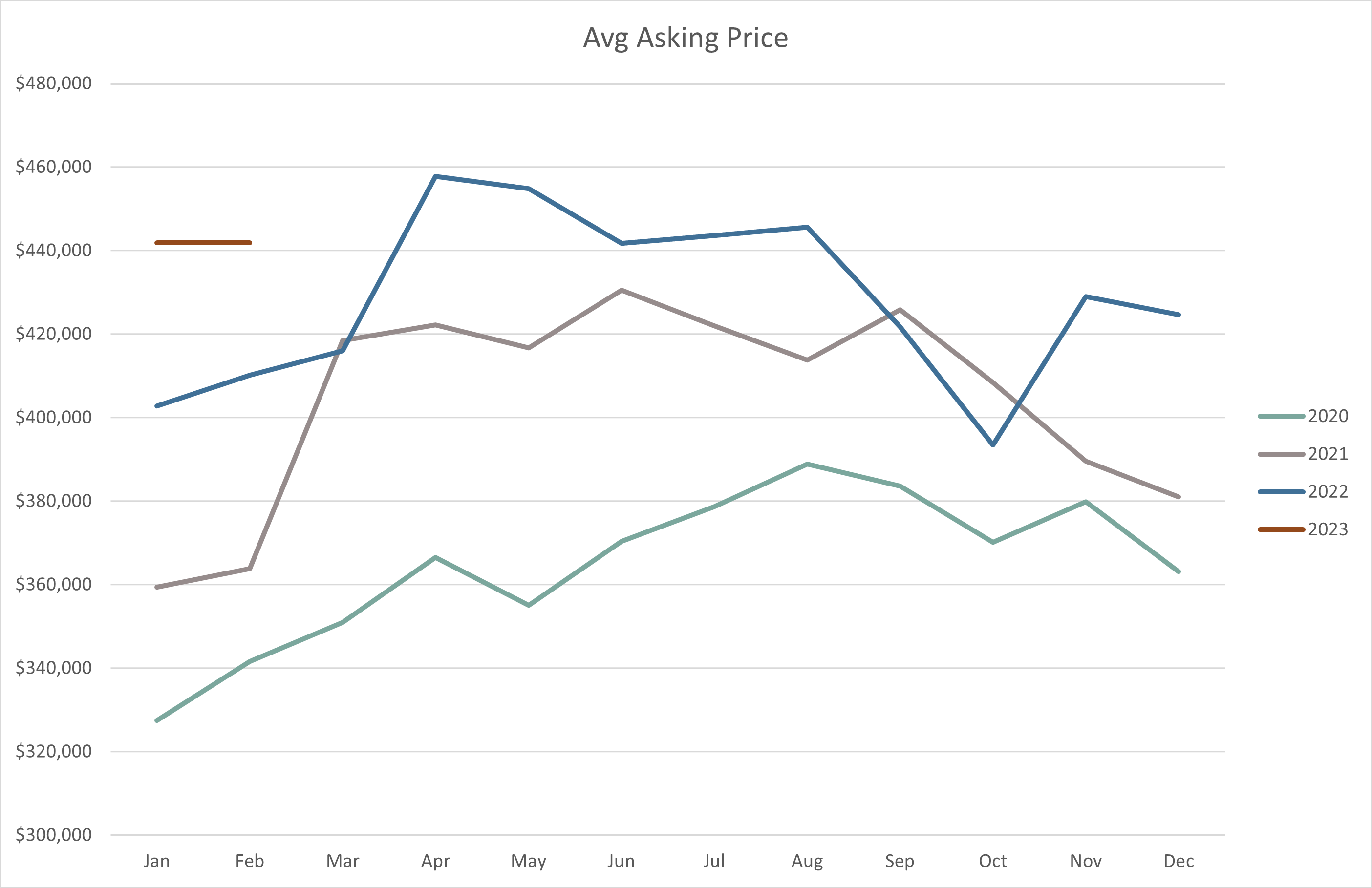 Last month, sellers in the Northwest suburbs were more inclined to reduce their asking prices to move inventory quickly - leading this ratio of sold-price vs. list price to dip near 97.69%. However, with a limited number of homes available for purchase and strong demand continuing into spring of 2023, it's likely that we'll see this ratio rise even higher as buyers continue competing over what is offered, potentially going over 100% by April!
Sold to Asking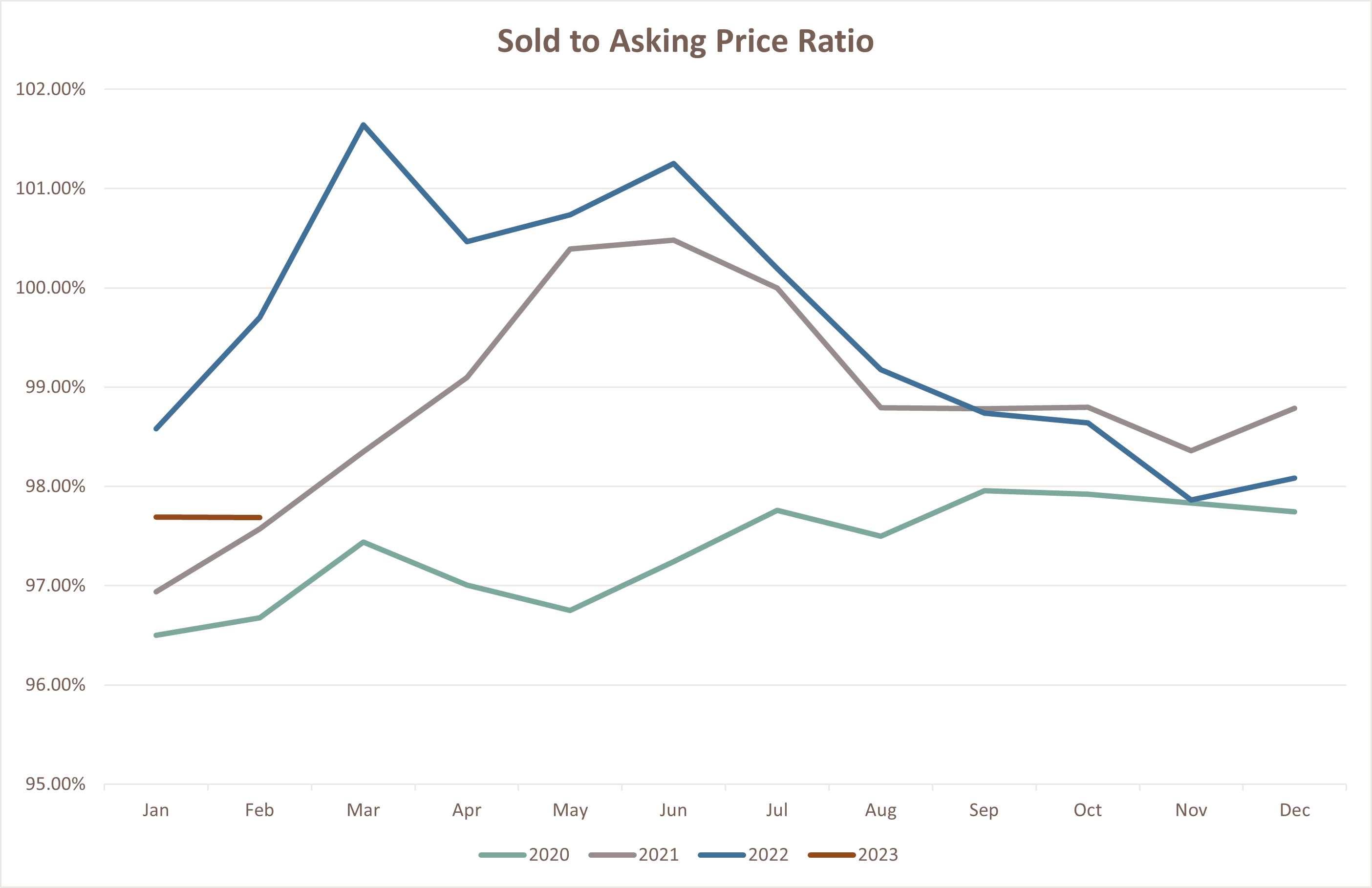 January is a traditionally slow month for home sales, and this year was no different. Last month saw only 56 single family homes sold and closed - 20 less than December's total. Buyers have the means to purchase, but sellers are missing from the equation; fewer properties became available on the market during January. The good news? We anticipate more listings appearing in springtime but those will come with higher prices as potential homeowners take advantage of favorable conditions to explore their options further before reducing the prices later in the fall.
Units Sold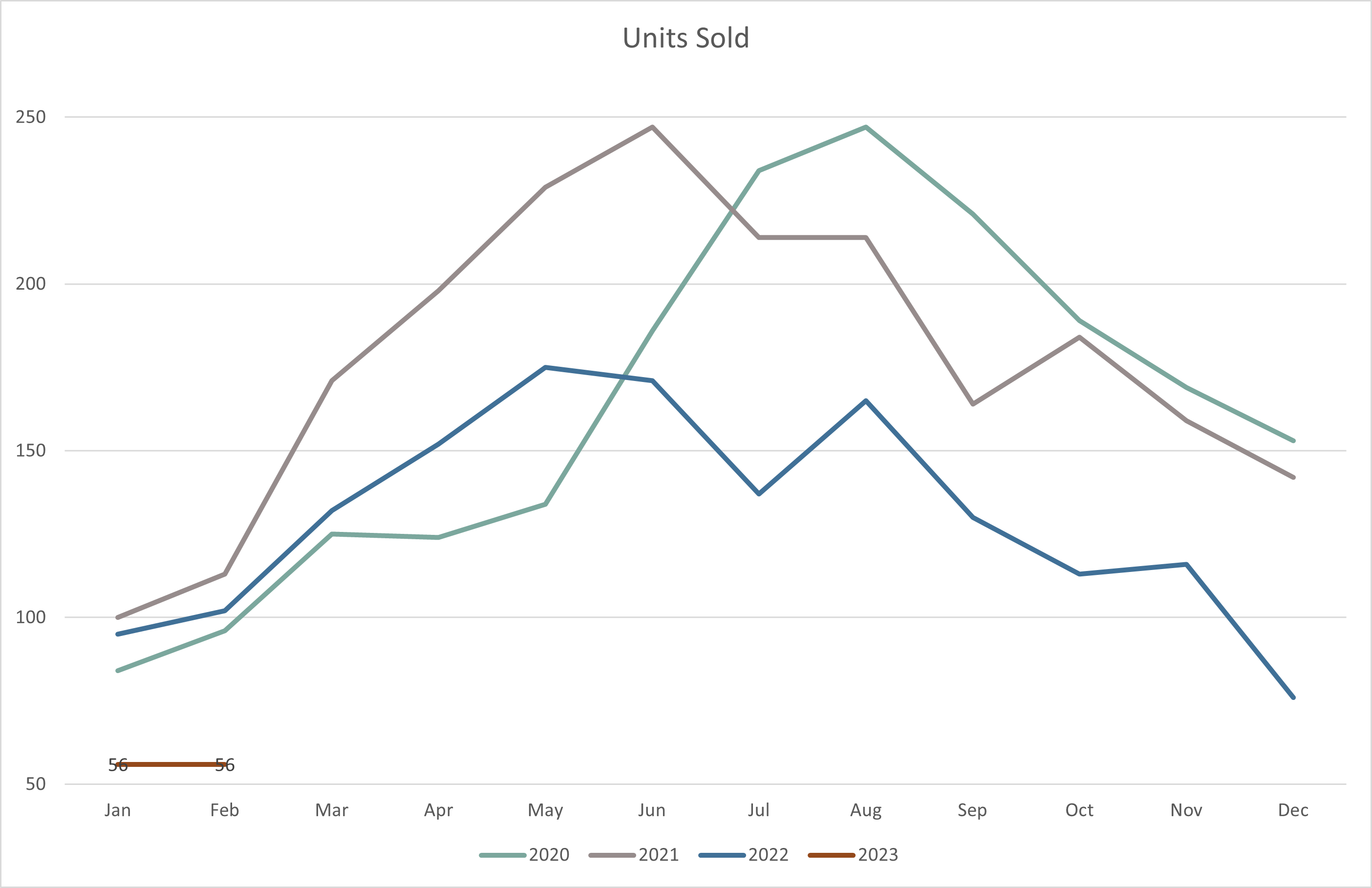 Last month saw a jump in homes listed for sale, with 84 newly available – 19 more than in December. Compared to January 2020 when there were three times as many listings on market, and January of 2021 with over 160 new offerings - buyers will likely face intense competition come springtime if they hope to land their desired house. Current data trends suggest prices may increase rather than reduce any time soon.
New Listings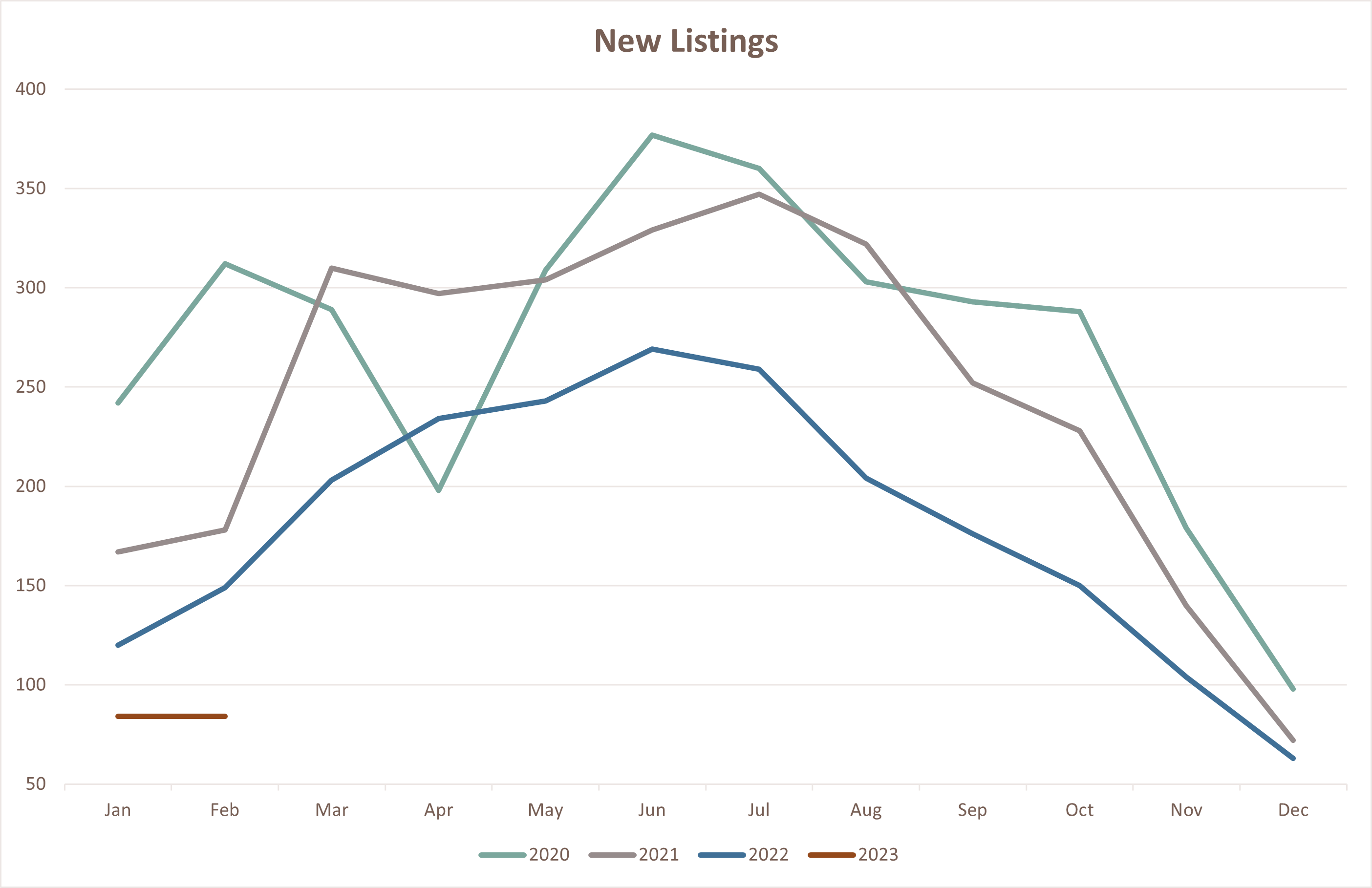 The Northwest suburbs real estate market is showing a positive trend. Despite low closings in January inventory remains stable at 1.2 months! That could be due to buyers returning faster than new properties entering on the market. In fact, we may see months of the inventory decrease over the next few months as more buyers will enter the market to capitalize on decreasing interest rates. It will be exciting spring market for sure.
Months of Inventory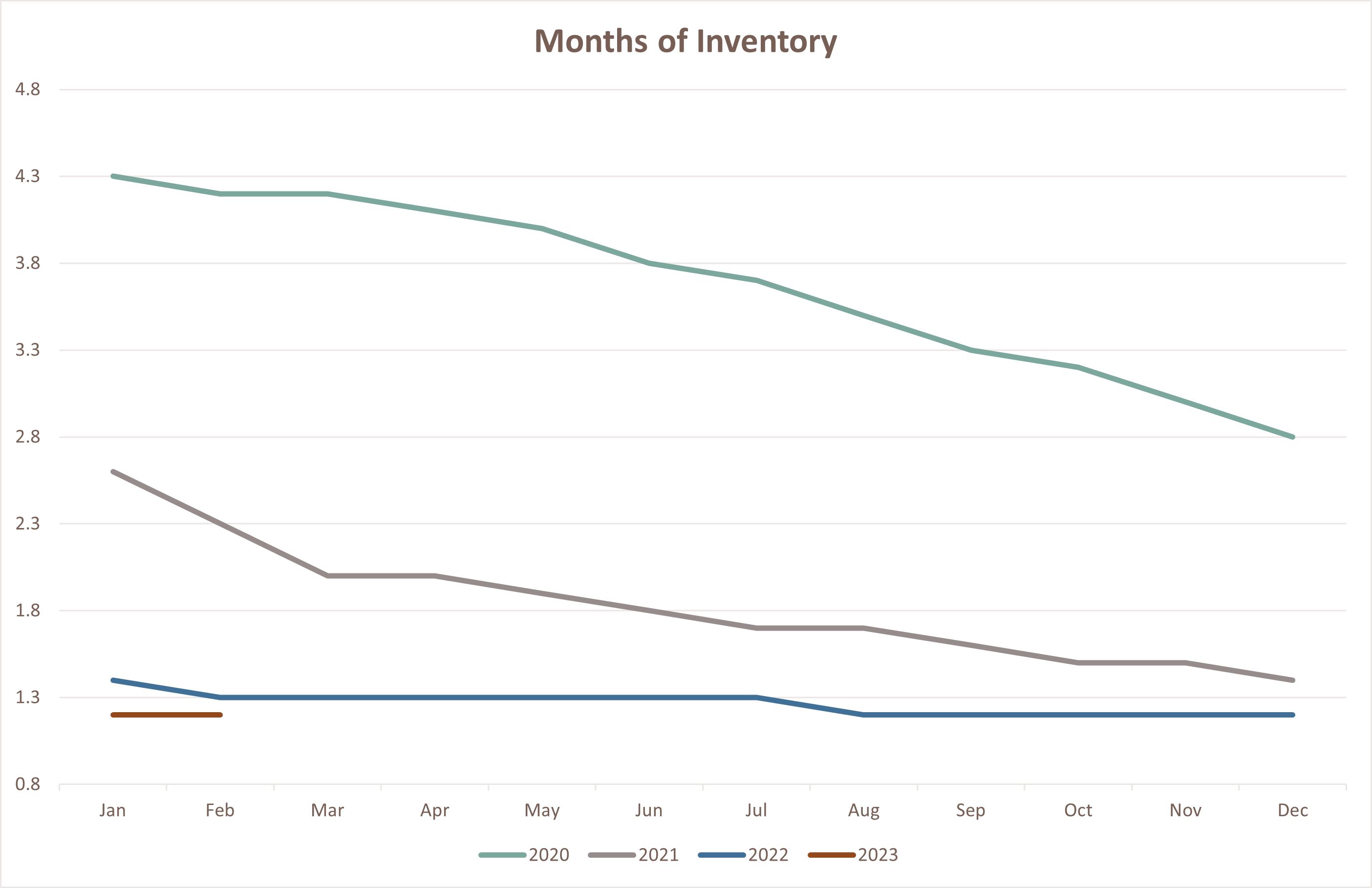 Buyer demand in our area for January was strong, with 2,809 showings recorded. This is still significantly less than both 2020 and 2021 when there were 1000 and 1500 more requests compared to this year's numbers. High rental prices and stabilized mortgage interest rate seem to be a major factor drawing buyers into the market - but unfortunately, they are unable to find homes that match their requirements due to lack of inventory of available homes.
Showings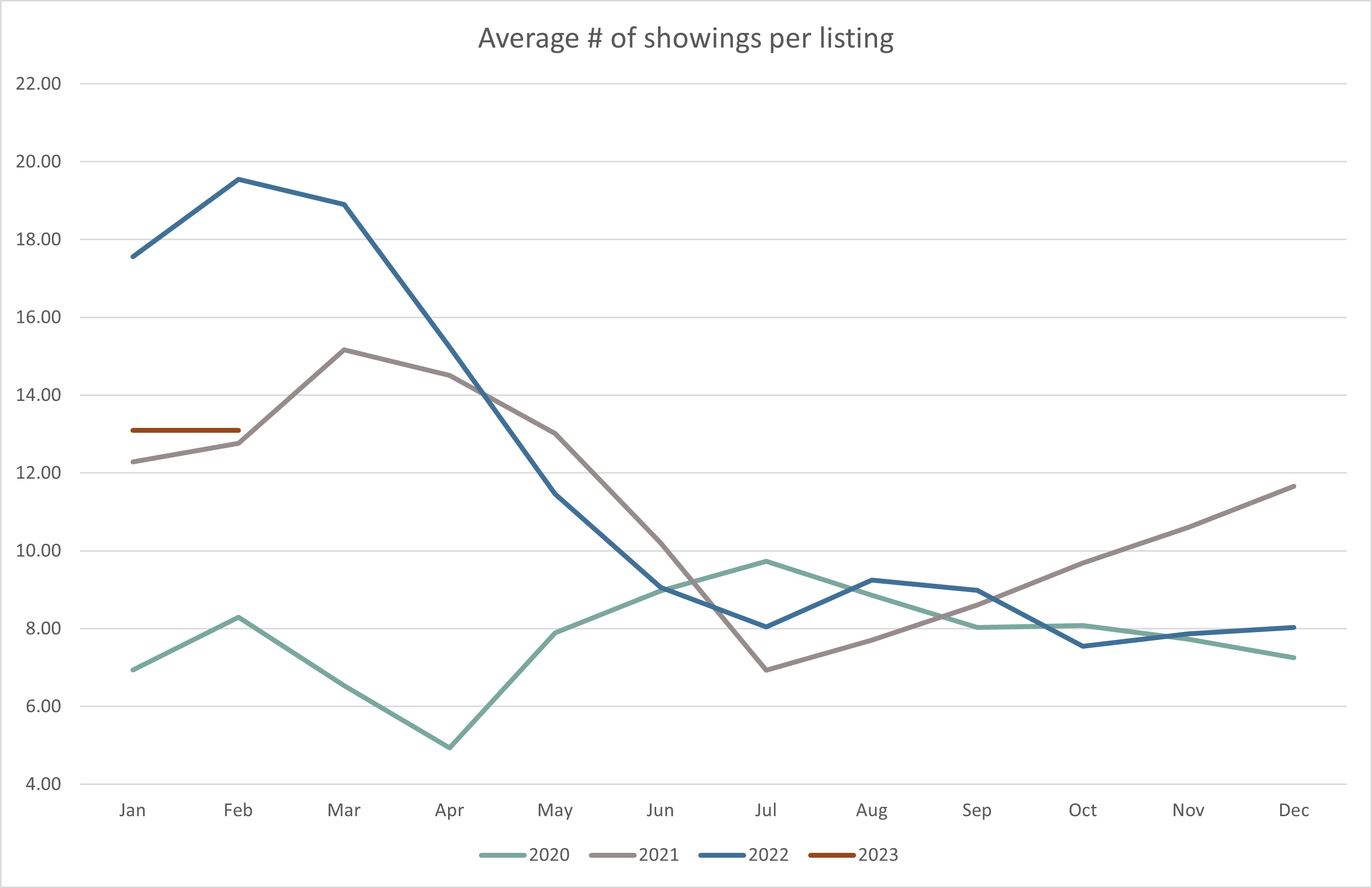 During the post-pandemic boom, we saw an impressive increase to over 18 showings per property. However late last year that number dropped significantly and then stabilized at 8-9 showings compared to pre pandemic levels of 5-6 showings per house. If mortgage rates drop further it could cause even more buyers entering the market place, potentially pushing up demand for homes and impacting prices accordingly. Sellers in our area are in a good spot with 13 showing per listing currently! We project that even as new listings show up this spring buyer demand will remain even stronger that we will see this number remain between 13 to 15 showings per listing.
Days on the market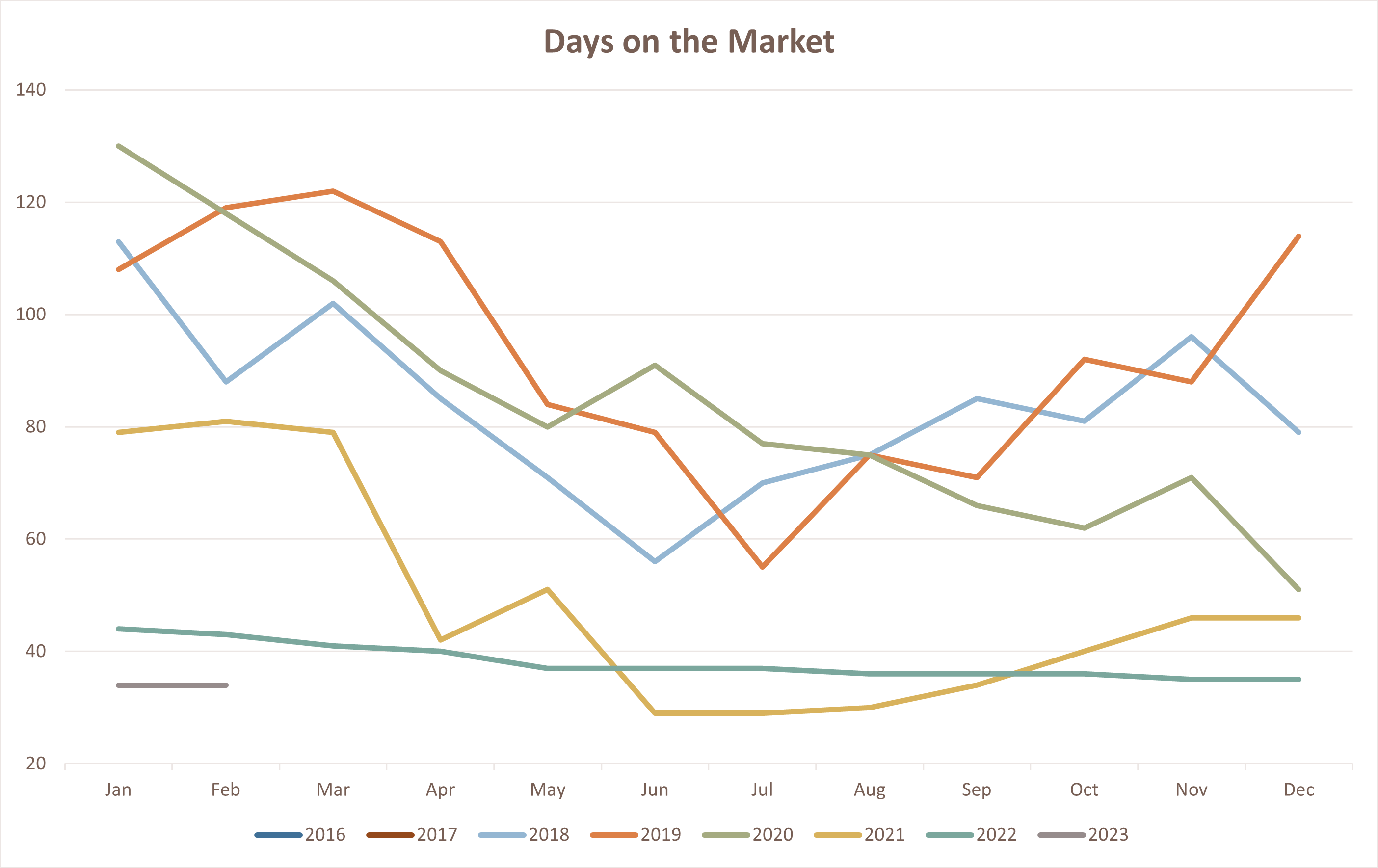 If you're about to put your home on the market, you should be well-prepared for a fast sale! Recent data shows that homes are lasting only 2–3 days before going under contract. To make sure everything runs smoothly in such a short timeframe, it's wise to start planning ahead of time and figure out where exactly you'll move once your house is sold — this will save quite some stress when offers come rolling in just few days after listing your property for sale. Mortgage lenders have open pipelines while home appraisers have appointment spots available and loans can get processed quickly; so if all goes according to plan, you could find yourself closing on your house as soon as 34 days later – one day faster than last month's average!